WINNING THE TALENT MANAGEMENT GAME STARTS BY KNOWING THE SCORE
Managing the workforce of a healthcare organization is anything but easy. With dozens of departments and points of service, along with clinical and non-clinical staff across disciplines and subspecialities, no wonder most organizations struggle to be as effective and efficient as they need to be in fulfilling their missions.
Are you facing any of these talent challenges?
Experiencing high or constant turnover?
Considering closing beds, floors, or limiting services due to healthcare staff shortages?
Frequently relying on staffing sources such as travelers, per diem and locums?
Paying overtime or incentives?
Experiencing a high volume of low tenure staff?
Has your organization completed any of these talent management projects in the past 12 months?
Conducted an analysis to know your cost of vacancy.
Completed an assessment of your hiring process.
Benchmarked your hiring metrics against industry standards.
Utilized retention programs that include the impact of scheduling and staffing operations.
If you answered yes to any of the first set of questions or no to any of the second set, it's time to take steps to proactively plan for your talent needs, including finding the right balance of permanent and contingent staff.
Do you know where to start, or the best path to take for your organization? Do you have the data to know where your system stands today, and where the opportunities are? If you don't know the answers, don't worry, just read on…
HOW CAN YOU KNOW THE SCORE?
The Talent Strategy Scorecard helps you understand and identify the opportunities related to your effectiveness of acquiring and retaining your workforce.
A 2–4-week engagement provides key metrics and insights on talent acquisition and operational factors that drive hiring and retention, including:
Market analysis to see available talent in the organization's geographic areas, comparison to local competitors, and national trends.
Recommendations to improve time to fill, increase agility, improve retention, and maximize use of technology.
Defined financial impact around immediate quick-win opportunities to leverage efficiencies.
New metrics and goals customized to your organization's situation.
Time to achievement calculator and scenario models for assessing when hiring goals will be achieved.
Strategic recommendations to reduce turnover and operational costs while increasing retention and staff satisfaction.
Specific guidance to maximize the use of technology by the HR/Talent Acquisition teams.
If you'd like help with execution, our recruitment process outsourcing model is flexible, ranging from recruiter-on-demand (help when you need it) to a full cycle, integrated approach.
PUT DATA TO WORK FOR YOU!
The Talent Strategy Scorecard utilizes your data sources as well as external data to prepare comprehensive recommendations spanning every aspect of talent management, from acquisition and recruiting experience, including time to fill/hire, to retention and policies. This deep-dive analysis assesses multiple factors impacting an organization's unique advantages and challenges, identifies new opportunities, and guides recruiting leaders to make informed choices.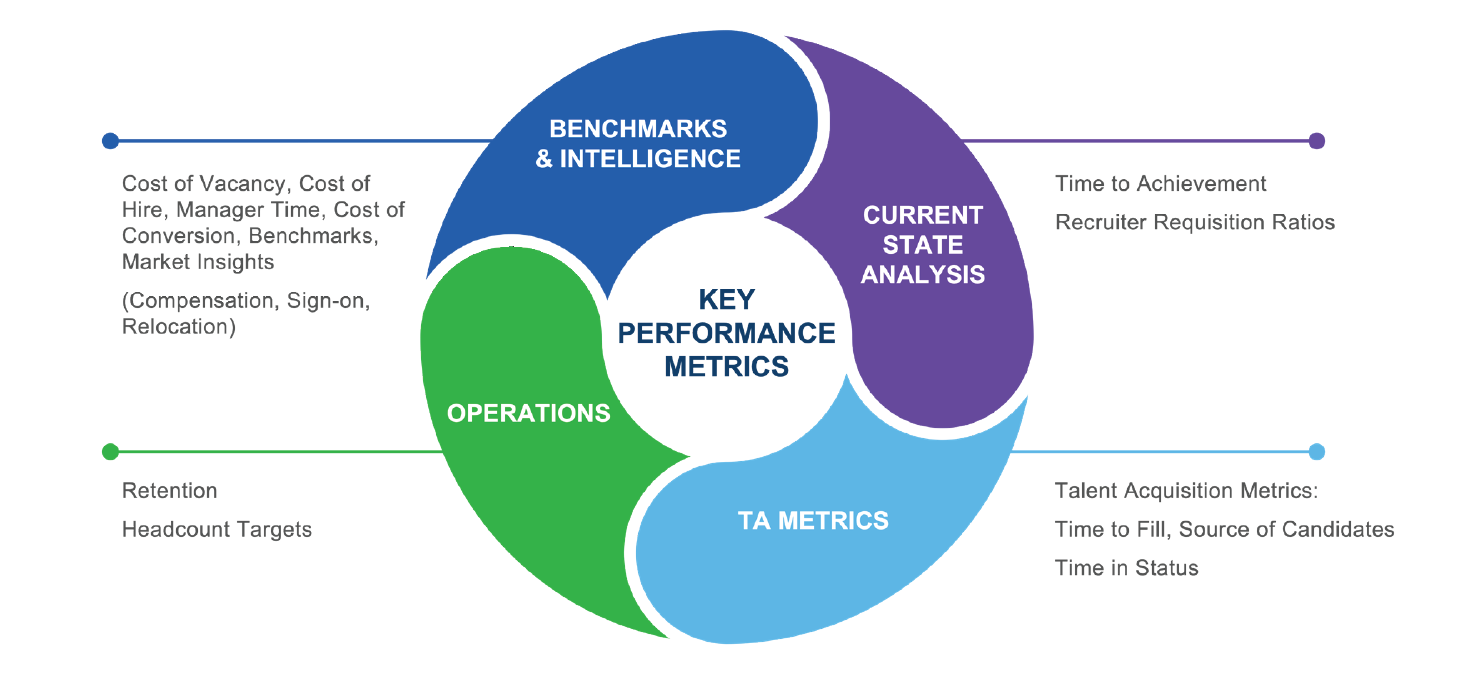 HOW A SYSTEM UPPED THEIR SCORE
When a healthcare leader in the Southwest needed help identifying opportunities to increase their efficiency in acquiring and retaining their nursing workforce, they turned to AMN Healthcare.
We recommended starting with the Talent Strategy Scorecard. We then worked with the organization to streamline their hiring process, improve their candidate experience, and increase their social media presence.
As a result, they were able to reduce the time to hire and onboard by two weeks and move from a monthly headcount loss to a net gain of new employees in just the first year. These improvements resulted in $5.0M in annual savings.
START KEEPING SCORE!
For more information on the Talent Strategy Scorecard and consulting, contact us at RPOinfo@amnhealthcare.com or visit our Recruitment Solutions page on AMNHealthcare.com.