Minnesota hospitals ask state to investigate BCBS over new policy ending coverage for 7 forms of routine care

Full story



CMS has billions in Medicare Advantage overpayments in its crosshairs

Full story



27 recent hospital, health system executive moves

Full story



How the Cleveland Sight Center automated accounts payable, saved thousands and eliminated paper storage.

Click here

to read the white paper

Thrilled to welcome 85 hospital and health system CEO speakers, plus keynotes Nikki Haley, Peyton Manning and George W. Bush, to Becker's 8th Annual CEO + CFO Roundtable, November 11-13, 2019.

Register here

. For exhibiting and sponsorship opportunities, e-mail Jessica Cole at jcole@beckershealthcare.com


Send bill to lower US health costs for Trump's signature this month, senator urges colleagues

Full story



Hospitals hire 'secret shoppers' to evaluate care quality

Full story



How to navigate payer vaccination reimbursement — A roadmap for providers. Click here to read the free e-book

Michigan surgeon accused of $60M billing fraud

Full story



CMS considers covering some acupuncture treatments under Medicare

Full story



Surprise billing legislation — An overview of the current and future implications of medical billing laws. Click here to attend the webinar

Viewpoint: Will 'Medicare for All' affect 401(k) investments?

Full story



Georgians accused of illegally getting Medicaid coverage from Tennessee

Full story
Editor's note: Yesterday's Payer Issues Report included an incorrect link for the story: CMS releases Quality Payment Program results: 5 takeaways. Please find the correct link here.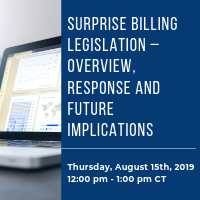 Contact Us
Editorial Contact:
Laura Dyrda
Editor in Chief
(312) 253-9170
Sales, Marketing & Events:
Jessica Cole
President and CEO